Local Connections

CESL Field Trip to Local Agriculture High School, Locust Trace 2014
by Lina Crocker, Full-time Lecturer at CESL
On Wednesday, September 24th, our students had a wonderful visit to Locust Trace AgriScience Farm, which is a special high school in Lexington that focuses on agricultural studies, as well as the environment and energy.  In addition to normal classrooms, Locust Trace has labs, gardens, a greenhouse, a barn for animals, facilities for raising fish and a veterinary clinic. Students can study Plant and Land Science, Veterinary Assistant, Agriculture Power Mechanics, Equine Studies and Large Animal Science.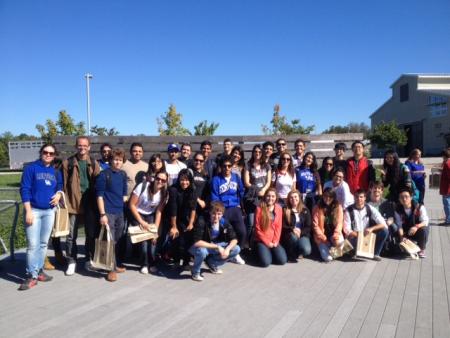 We really enjoyed seeing the school building, which was beautiful, innovative and energy efficient.  It generates its own electricity with solar panels, and has many energy saving features.  It also has an interesting water system which collects rainwater from the buildings for use on the farm. 
The most interesting things, however, were the animals and the people.  We enjoyed seeing horses, pigs and chinchillas.  We were able to visit with the very nice veterinarian who works and teaches there at the school.  It was great to meet and talk with students while they were caring for the animals and planting seeds for the gardens. 
The best part of the visit was the opportunities that it opened up for many of the Brazilian students that are with the Brazilian Scientific Mobility Program.  During the short visit there, they were offered the opportunity to have an internship at Locust Trace. Not only does this provide experience in their respective fields, but it also gives the chance to use English through meaningful, hands-on experience. We are thrilled to have this opportunity for our students.
We are thankful to everyone at Locust Trace who gave us a great tour and made us feel welcome.