By Kathy Johnson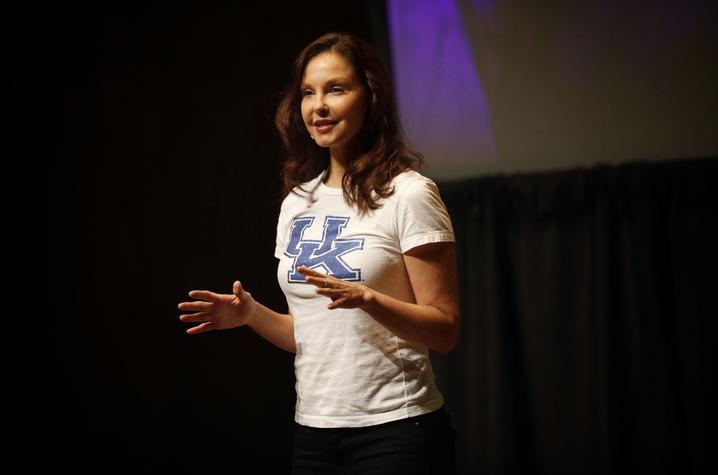 Ashley Judd. Mark Cornelison | UK Photo.
Ashley T. Judd, University of Kentucky alumna, feminist, and social justice humanitarian, will be on campus today, Friday, Dec. 1, to present the 15th annual Irma Sarett Rosenstein Distinguished Lecture at the Singletary Center for the Arts. All tickets for the event have been distributed and no general admission entry is available.
Hosted by the College of Social Work in partnership this year with the College of Arts and Sciences, the lecture is named for Lexington social worker and social justice advocate Irma Sarett Rosenstein.
"Irma Sarret Rosenstein's passion and life's work was standing up for the rights of those who were denied the full benefits of living in America," her family said. "Our mother recognized the importance of social justice early in her life and was always one to speak up for families that were in need. She knew the meaning of equality, education, fairness and respect — for all."
Titled "From Kentucky to Kenya and Everywhere in Between," Judd's talk will profile the personal story embedded in her international work on behalf of abuse survivors.
Judd has been working internationally with nongovernmental organizations, grassroots organizations, governments, and supranational bodies since 2004.  Presently, she serves as Global Goodwill Ambassador for the United Nations Population Fund (UNFPA), is the Global Ambassador for Population Services International and for Polaris Project. Through UNFPA she has recently traveled to Jordan, Ukraine, Turkey and India. She serves on the advisory boards of International Center for Research on Women, Apne Aap Women Worldwide and Demand Abolition. She is chairperson of the Women's Media Center Speech Project: Curbing Abuse, Expanding Freedom.
After graduating from the UK College of Arts and Sciences, Judd earned a Master of Public Administration degree in 2010 from Harvard's Kennedy School of Government.  Her paper, "Gender Violence, Law and Social Justice," won the Dean's Scholar Award at Harvard Law School. She frequently serves as an expert panelist at international conferences, is a sought after public speaker and is a widely published op-ed author with a diverse and unique social media presence. Her book, "All That Is Bitter & Sweet," detailing her visits to grassroots programs in 13 countries, was a New York Times bestseller. Judd is also an actor on film and stage. She has been nominated for several Golden Globe and Emmy awards.
In addition to celebrating the extraordinary legacy of Irma Rosenstein at today's event, the College of Arts and Sciences will announce creation of the Ashley T. Judd Distinguished Graduate Fellowship in the Office for Policy Studies on Violence Against Women. 
"We are proud to recognize the impassioned work of one of the college's alumni and pleased to have the opportunity to use Ashley's work to teach graduate students across disciplines," said Mark Kornbluh, dean of the College of Arts and Sciences. 
"The Ashley T. Judd Distinguished Graduate Fellowship is a rightful way to honor Ashley's efforts to end violence against girls and women, and an extraordinary chance to inspire the next generation of scholars and activists," said Carol E. Jordan, executive director of the Office for Policy Studies on Violence Against Women.
Irma Sarett Rosenstein (1922 – 2015) grew up in New York City and graduated from the University of Pennsylvania with a master's degree in social work. Rosenstein always cared deeply about the welfare of children, the most vulnerable population. She was a social worker at the UK Albert B. Chandler Hospital and taught in the UK College of Social Work where she worked closely with the first dean of the college, Ernest Witte. She recognized early on in her career that early intervention was the key to both treatment and prevention for kids in need. Rosenstein brought an ethos of openness and of clarity to community problems. She did not shirk from addressing racism and bigotry. She took on the big issues of her day, and social justice was always a passion.
Rosenstein was the driving force behind the Kentucky Conference of Christians and Jews, now called the Kentucky Conference for Community and Justice (KCCJ), an organization dedicated to building community and ending bigotry. She hosted one of social work's most prominent leaders, Whitney Young, at a KCCJ dinner when no public places outside of UK were desegregated.
Thanks to a generous gift from Rosenstein and her family in 2002, the College of Social Work has been providing research-based and practice-driven lectures by distinguished national speakers each year on UK's campus.
"The Irma S. Rosenstein Lecture is the premiere event of the College of Social Work." said Ann Vail, interim dean of the college. "Mrs. Rosenstein was an ardent supporter of children and a strong advocate for issues impacting child well-being.  Her legacy lives on in the Rosenstein Lecture.  Students, faculty, staff, alumni, and the public have the opportunity to interact with individuals who have made and continue to make a difference in our world.  We look forward to the story Ashley Judd has to share." 
Kay Hoffman, who served as dean of the College of Social Work at the time the lecture series was created, said, "We are grateful every day for the Rosensteins' support to bring critical topics to our students, faculty and the community. Irma was a wonderful person whose life and spirit continues to influence what is the very best of our profession. She did not give up fighting for social justice," she said.
As Irma Sarret Rosenstein said herself just a few years ago, "During my lifetime there have been significant advances in caring for families and children but we haven't gone far enough. There's more work to be done!"
UK is the University for Kentucky. At UK, we are educating more students, treating more patients with complex illnesses and conducting more research and service than at any time in our 150-year history. To read more about the UK story and how you can support continued investment in your university and the Commonwealth, go to: uky.edu/uk4ky. #uk4ky #seeblue